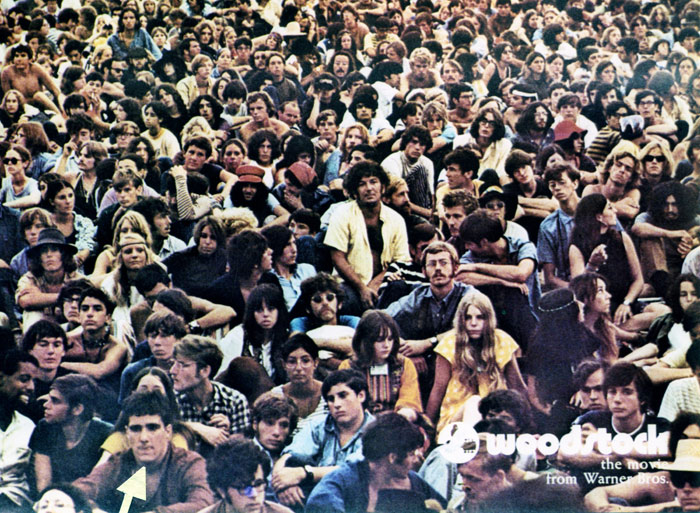 Herb Staehr at the legendary Woodstock Festival 1969
"I came to Woodstock by taking 128 North, the Massachusetts Turnpike West to Albany, 87 South to Middletown and 17 West to White Lake - probably about 5 hours on a good travel day!
Seriously, we had a "caravan" of 2 cars and left about 6PM on Thursday night - 3 hours later than planned, but nobody cared - we were young and carefree. Early Friday morning (or late Thursday night), we somehow managed to navigate around all the cars that were already backed up on Rt.17 - by driving on the soft shoulder. I remember managing to stay awake nearly the whole night except for the last hour or so. We arrived at the "campsite" about 6:00 AM when my brother shook me awake and said, "We're here!!".. There were only 100 or so tents when we set up but, after sleeping for about 6 hours, we awoke to 10 times as many "neighbors" and the population continued to grow exponentially over the course of the next three days.
We arrived at the Festival site in the early afternoon on Friday - I still remember the pastoral beauty of narrow Hurd Road, lined with trees and the vast and gently sloping farm fields - and, around a corner, it suddenly opened to the surreal scene of the stage, light towers and (already) several thousand people. Richie Havens started sometime thereafter - we were right at edge of the stage. I only remember bits and pieces of the whole trip - the crystal clear voice of Joan Baez late Friday - closing the evening as we tryed to find our way back to the campsite....my brother and I took a wrong turn and got hopelessly lost, hitching a ride with Arlo Guthrie's limo driver (honest) who was also lost...finally finding "home" again and waking up with what seemed like 2 inches or rainwater in the tent on the next (Saturday) morning.
The highlights on Saturday were Santana (the stage hands threw left over pieces of 2x4's into the crowd and everybody was clapping them together in beat to "Soul Sacrifice"). Canned Heat were also great, they actually performed twice that afternoon. In the evening, I remember that the Grateful Dead played an incredibly long and terrible set - but they were followed by Creedence Clearwater Revival, with John Fogerty's distinctive voice howling up the hillside after the opening notes to "Born On The Bayou"... and everything was instantly good again!! If I am not mistaken, many of us came just to see CCR - because they were huge at the time.
I remember very little of Sunday, we left in the early afternoon because we all had to be back at work or school (I was in my senior year at Mass Maritime Academy) and, by then, were all very tired, hungry and wet. I believe Ten Years After took the stage about 8:00 PM on Sunday night - the first act after an extended rain delay. I was already nearly home about that time and missed them - but, no matter, I had seem them 2 weeks before in the intimate confines of the "Boston Tea Party" and that in itself was an unforgettable experience."